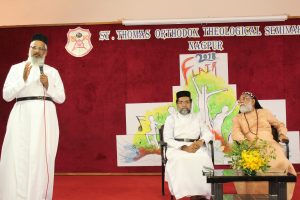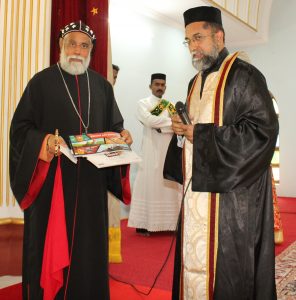 The fourth Satsangh of this semester was conducted on 10th Oct 2018
H.G. Youhanon Mar Miletius Metropolitan of  Thrissur diocese and
Visting faculty of  STOTS was the resource person. Thirumeni presented
his views on the destruction of Nature done by humans and the
consequences humankind must face, in the light of the recent Kerala
floods. Visiting  faculty Rev. Fr. Dr. John Thomas Karingattil,
editor of Malankara Sabha Magazine and faculty OTS, Kottayam, also
presented his views. Students and faculty members actively
participated in the Satsangh.
H.G. Youhanon Mar Miletius spares his valuable time every year to take
classes and be with the seminary family for a couple of weeks. This
year too his presence was a blessing to the seminary. A colorful and
unique book  Know My Church which focuses on the faith and practices
of Malankara Orthodox Church ,  was gifted to Mar Miletius by the
Principal Bijesh Philip Achen. The book catering to the spiritual
needs of the young diaspora, was prepared by Rev.Fr.Jobin Varghese and
Rev. Dn.Jaison John , two alumni of the seminary.   Seminary family
expresses its gratitude to Miletius Thirumeni and John Thomas Achen.