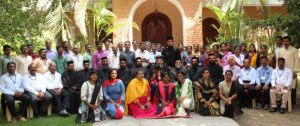 The Annual General Body Meeting (AGM) of OSSAE-OKR 2017-18 was held at St. Thomas Orthodox Theological Seminary, Nagpur on 15th and 16th
September 2018. The main theme of this year's  AGM was "Repent and Rejoice "
H.G. Dr.  Abraham Mar Seraphim, President of OSSAE-OKR presided over the meeting. The President hoisted the flag at the beginning of the AGM 2018 and inaugurated the meeting.    Rev. Fr. George Varghese, the newly appointed faculty member of STOTS took a class on the theme. Office bearers and delegates from all outside Kerala Dioceses and UAE zone and Kuwait zone were present.  There were active discussions and decisions to make our OKR Sunday school more dynamic and effective. Lessons will have to be prepared based on the newly revised lesson plan soon.  Online resources will be made available to help the Sunday school teachers.  OSSAE OKR Director Rev. Fr. Dr. Bijesh Philip welcomed the members of the Executive Meeting as well as the Annual General Body Meeting of OSSAE OKR.  Rev. Fr. John Mathew, the treasurer of OSSAE  OKR and Rev. Fr. Baiju Thomas , the OKR OVBS Director registered vote of thanks in AGM and Executive respectively. Rev. Fr. Nithin V Rajan, OSSAE OKR manager, Directors Rev. Fr. Lany Chacko of Delhi Diocese, Mr. Anil Thomas of Ahmedabad Diocese,  Mr. Kuruvilla Varghese of   Bangalore Diocese, Mr. K. V. Jose of Brahmavar Diocese ,  Mr. Cherian Thomas of Madras Diocese  and Mr. John Mathai of Culcutta Diocese ,  and the UAE Zone secretary Mr. Raju Paul and Kuwait Zone Coordinator  Mr. Kurian Varghese gave leadership to the programmes and discussions. The faculty, students and staff of the seminary worked hard for the success of the meeting. Gifts sponsored by Dr.Sunny Periyaram, director of Bombay Diocese Sunday School, was distributed to all the delegates . Awards and prizes were conferred to those students who secured A+ grade in 10th and 12th classes and
also for the winners of the Inter Diocesan Competition, during the valedictory function..